Beschreibung von Tom Clancy's Rainbow Six Siege - Deluxe Edition
Tom Clancy's Rainbow Six Siege - Deluxe Edition für Ubisoft Connect bei Gamesplanet.com kaufen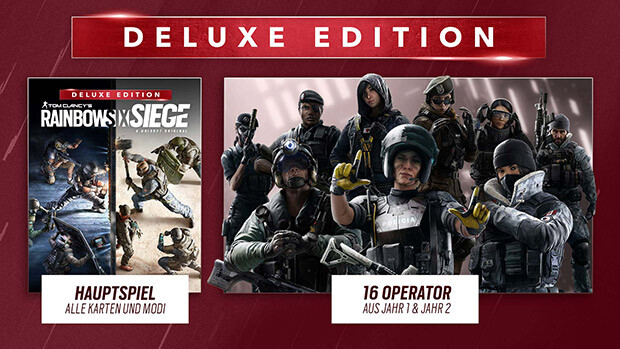 Die Deluxe Edition von Tom Clancy's Rainbow Six® Siege enthält:
Vollversion des Spiels (inklusive aller Karten und Modi)
Alle 16 Operator aus Jahr 1 und Jahr 2
"One of the best first-person shooters ever made. 10\10" – GameSpot
Tom Clancy's Rainbow Six® Siege ist ein realistischer, taktischer, teambasierter Elite-Shooter, bei dem die bessere Planung und Durchführung den Sieg bringt. Es bietet euch 5-gegen-5-Gameplay mit Angriff und Verteidigung sowie intensive Nahkämpfe in zerstörbaren Umgebungen.
Wählt einen der über 60 Operator mit ihren eigenen Spezialgeräten und anpassbaren Waffenausrüstungen. Überlistet eure Gegner, indem ihr Wände, Böden und Fenster durchbrecht, oder legt euch mit tödlichen Fallen auf die Lauer.
Tom Clancy's Rainbow Six Siege entwickelt sich ständig weiter: Jede Saison bringt neue Inhalte, Spiel-Events und mehr.